About Loyalist Flowers
MISSION STATEMENT:
Inspired by natures beauty. At Loyalist Flowers we are firmly committed 
to delivering the finest quality and freshness as well as offering the 
utmost dedicated service to all our beloved clients.
---
ABOUT LOYALIST FLOWERS:
Loyalist Flowers has been offering the Kingston, Ontario area premium 
floral arrangements and assortments since 2002. We are family-owned and 
operated, so when you choose us, you can always expect to be treated 
more like a family member and less like "another customer." Our stunning 
arrangements will allow nature's beauty to further enhance your every 
occasion!
Loyalist Flowers offers free delivery within the Greater Kingston and 
Amherstview area. The free delivery boundaries are as follows; west of 
the Kingston Causeway, as far north as the 401 Highway and west to 
County Road 6. Outside of this vicinity we are happy to deliver for you 
although a delivery fee will apply.
Please contact the shop for more information or see the delivery policy 
page on our website for the price list and details.
Check out the coverage of our Petal it Forward event on
Station 14
Read more about the event in the Kingston Region.
Check out the coverage of our 2nd Petal it Forward event from February 2!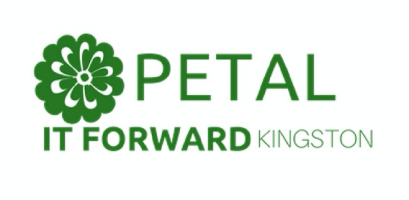 ---
AWARDS & CERTIFICATES

Best Floral & SEO Award

Best Floral & SEO Award" presented by
Serendipity Studios & Say Yes to The Dress Canada
and we're absolutely thrilled about it. Thank-you for all
of your loyalty and support. Special thanks to Serendipity
Studios for hosting the event and of course our dedicated
team here at Loyalist Flowers. What can we say, we love
our flowers and our lovely customers.

Three Best Rated

Certificate of excellence presented to our shop on
January 1, 2017. This award is presented to the top 3
Florists in Kingston, ON based upon customer reviews,
history, complaints, ratings, satisfaction, trust, cost, and
their general excellence. You deserve only the Best!


---
THE DREAM TEAM AT LOYALIST FLOWERS:
Shelly Murphy, Owner
Shelly Murphy has owned and operated Loyalist Flowers for 14 years and counting.
Shelly is renowned for her contemporary designs, as well as her uncanny ability
to coordinate striking personalities with her arrangements. Shelly ensures an
extensive selection of freshness and unique products to enhance any occasion!

Years of Experience: 20 years
Favourite Flower: Lisianthus
In a Nutshell: Traveller, Entrepreneur Extraordinaire, Dedicated Momma Bear,
Health & Wellness Ninja, and a BusyBee
Guilty Pleasure: Cheesecake!
Pet Peeve: People who don't always see the glass half full



Inger, Support Staff & Accountant
Inger has been gardening all of her life. Her unparalleled
knowledge of floral-care earned her the title of "Green Thumb," here at Loyalist.
Inger is an expert on the European-style arrangements and is
commonly celebrated for her tasty gourmet baskets. Inger is officially retired from
her day-to-day but does all the accounting for the shop.
She can be found here on every holiday and loves her grand babies.

Years of Experience: 8 years
Favourite Flower: Yellow Rose
In a Nutshell: Music lover, World's Best Gma, Runner, Mother Hen, Ms.Greenthumb
Guilty Pleasure: Dairy Queen
Pet Peeve: Disorganization


Trish, Floral Designer
Trish brings 32 years of experience along with her big personality!
She's a burst of sunshine here in the shop and is very passionate which transpires
into her stunning high-style creations.
Years of Experience: 32 years

Favourite Flower: Cymbidium Orchid
In a Nutshell: Gardener, Kayaker, Dance Superstar, Lover of Iive- music,
Jokester, Life-lover Guilty Pleasure: Shoes
Pet Peeve: None really come to mind!


Cheryl, Floral Designer
Cheryl has over 12 years of experience and has a contemporary floral design style,
you could say she's a bit of a perfectionist. Her attention to detail is out of this world…
Borderline OCD

Years of Experience: 12 years
Favourite Flower: Ranunculus
In a Nutshell: Music Queen, Keyboard player, Singer, Photographer, and a Grand Baby lover
Guilty Pleasure: Dark Chocolate
Pet Peeve: Hot Flashes

Sarah, Floral Designer

Sarah's our newest designer. She's a very dedicated, multi-tasker
and still developing her own personal floral style.
Her sunny disposition lights up the shop! And Sarah's desserts are no joke, seriously delish.
Years of Experience: Florist in Training

Favourite Flower: Peonies
In a Nutshell: Knitter, Baker, Foodie, Momma Bear, Multi-task Warrior Princess
Guilty Pleasure: Teeny Booper Movies & Shows
Pet Peeve: Noisy Eaters

Dave, Deliveries

Dave is Shelly's other half, her stud-muffin. Dave works for the City of Kingston and
is a volunteer firefighter. While he's not working he supports the shop
and the team with his charismatic personality and his superb delivery service.

Years of Experience: Works for Tim Hortons Coffee
Favourite Flower: Hyacinth flower
In a Nutshell: Dog lover, Movie buff, Air drum King, Irish Pub goer, Motley Crue lover.
Guilty Pleasure: M&M's
Pet Peeve: Pushy sales people

Liz, Jack of All Trades

Having one Sarah in the shop is enough so we had to nickname our new Sarah (Liz)…
it was either Liz or Sarah 2.0!

Liz comes to us with 11 years of retail experience. She effortlessly makes everyone
smile with her fun and positive personality. She's a "Jack of all trades", sometimes
she's on delivery, other times she can be found in the shop processing flowers or
helping out clients.. but wherever you find her, we assure you she will be smiling!


Favourite Flower -Alstromeria
In a Nutshell: Liz can say "Gone Fishing" on many
of her days off. She also loves Scrapbooking, and many different music genres.
Guilty Pleasure: Pizza, pizza…. and more pizza!
Pet Peeve: Her 'new' name :)



Bella, Greeter & Team Lead

Bella, needlessly to say is our hardest working employee.
She makes sure morale is always on a high here at the shop.
She enjoys munching on Carnation stems, only the stems not the leaves...
And after a long day, Bella likes to wash the day away with a long soak in the tub!
She also enjoys playing hide-and-go-seek with other people's things.

Favourite Flower: Carnation Stems
In a Nutshell: Attention seeker, people lover, life lover, Momma's girl
Pet Peeve: Luke warm water